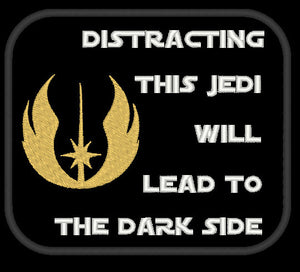 'Distracting this Jedi will lead you to the Dark Side'' for working dog gear, service dog, a service dog in training

This patch can be on Hook and loop (male backing), iron-on, or sew-on. For service dog vest or gear. Embroidered patch, high-quality thread for a service dog.

Size : 4'' x 5''
Materials: patch, patches, embroidery, embroidered patch

The text can be personalized for your need. Do not hesitate to send me a message.

Made to order ♥ handmade in Canada

Like my work? Follow me on Instagram @malyacreations and go check my other patches. Thank you!
Want something special? Write to me. I can make special orders to realize your dream patch!

🐝 HELP SAVE THE BEES 🐝 $0,10 from each sale will be donated  towards a conservation organization dedicated to save the bees